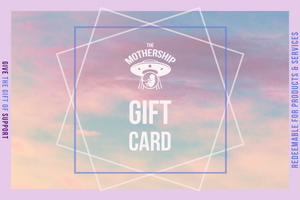 The Mothership NYC
The Mothership Gift Card
Sale price Price $25.00 Regular price
Give the gift of nonjudgmental care and support that the parents to be will really need. Give the gift that is functional & outstanding. Whether for pregnancy, birth, or postpartum, gifting support, placental encapsulation, lactation counseling, and herbal healing from The Mothership is the perfect present. 


Gift certificates can be used for any of our services at The Mothership. Joining with other family members or friends to purchase a whole package is a great idea.

Are you in charge of planning the baby shower? Make sure to let guests know that the expectant family is requesting doula services as a baby shower gift and gift cards are an option. 
WHAT IS A DOULA?
A doula is a Greek word for a woman that serves. It has been adapted to mean a woman who gives emotional, physical, and informational support to a birthing person and her partner/family before, during, and after labor.
We will draw on our professional training and experience to provide you with such support, and as needed, help communicate with the hospital/birthing staff to make sure you have the information you require to make informed decisions as they arise in labor. We can provide reassurance and perspective in labor for you and your partner, make suggestions for labor progress, and help with relaxation, soothing touch/massage, positioning, and other techniques for comfort.
We are independent and self-employed. As your doulas, we work for you and not your caregiver or hospital.
WHAT ARE THE BENEFITS AND DISADVANTAGES?
Numerous studies have documented the benefits of having a doula present during labor. Many recent reports show a very high number of positive birth outcomes when a doula is present. With the support of a doula, women are less likely to have pain medication administered and less likely to have a cesarean birth. Women also reported having a more positive childbirth experience.
WHAT IS THE EFFECT DOULAS HAVE ON BIRTH OUTCOMES?
50% reduction in the cesarean rate 25% shorter labor
60% reduction in epidural requests 40% reduction in pitocin use
30% reduction in analgesia use 40% reduction in forceps delivery
Improved chest/breastfeeding
Reported satisfaction with birth experience
Decreased postpartum depression
There are no disadvantages to having women supporting other women during birth.