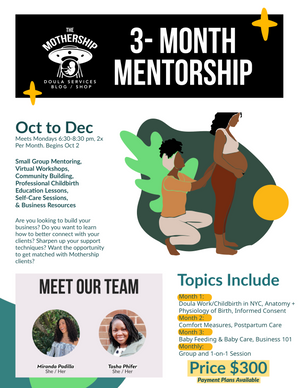 The Mothership NYC
3 Month Mentorship for Doulas
Sale price Price $300.00 Regular price
The Mothership 3-Month Doula Mentorship Program
Small Group Mentoring, 1-on-1 Consults, Virtual Workshops, Community Building, Professional Childbirth Education Lessons, Self-Care Sessions, & Business Resources
Fall Cohort meets Mondays at 6:30pm 2x a month beginning Oct 2nd
Are you looking to build your business? Do you want to learn how to better connect with your clients? Sharpen up your support techniques? Want the opportunity to get matched with Mothership clients?
Join us this September. We will meet once a month in person in Harlem. We will also meet once a month virtually. Meetings will take place on Mondays at 5pm.


Schedule
Month 1
Doula Work / US Midwifery / Reproductive Justice / Human Rights in Childbirth in NYC
Anatomy + Physiology of Birth / Informed Consent / High Risk Pregnancies
Month 2
Comfort Measures, Mental, Physical, & Informational Prep for Childbirth
Postpartum Care
Month 3
Baby Feeding & Baby Care
Business 101

**Payment plans available. Email Doula@themothershipnyc.com to sign up for scheduled monthly payments.