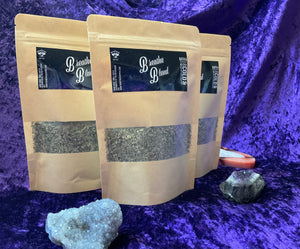 The Mothership NYC
Breathe Blend - Herbs for Respiratory Steam, Bath, & Tea
Sale price Price $15.00 Regular price
The Mothership Breathe Blend is a handcrafted mixture of healing herbs to help ease the irritation of swollen blood vessels in the nasal passage, move stagnancy in the respiratory system, & help open the airways and loosen mucus in the nasal passages, throat, and lungs.
The herbs are expectorant, and will make your coughs more productive to move any mucus that may be settling in the chest or throat. This blend aids in reducing swelling & creating a soothing anti-inflammatory coating over the tender lining of the nose, throat and lungs.
The ancient practice of respiratory steaming has healing capabilities known to relieve sinus congestion, alleviate nasal cavity stuffiness, dry and irritated nasal passages, and help runny roses. 
This blend also makes an excellent tea or bath soak for babies and children.  
This blend can be used for: 
Common cold
The Flu
Sinus infections
Bronchitis
Nasal allergies

Pneumonia

Tonsillitis

Sore Throat




Smokers Cough
Ingredients:
*Mullein - A superior, safe, respiratory tonic. An expectorant - helps loosen & expel mucus, helps open lungs, eases spasms, tightness, and cough, and soothes irritation and dryness. Mullein is indicated for dry, harsh, hacking coughs, and weak lungs
*Basil - A natural expectorant, basil works is great for chest congestion, lung, and respiratory issues. Naturally antiseptic, antibacterial, and a decongestant
*Sweet Marjoram – Highly antiseptic and antiviral, sweet marjoram is a great expectorant that helps open up the airways and relaxes the body for a good night's rest
*Clove - A natural expectorant, clove is also highly antiseptic and warming
*Mint - One of the mints with a higher menthol content, peppermint is naturally antibacterial and a natural expectorant
Lemon Peel - Highly antiseptic and antibacterial, citrus peels contain the fruit's essential oils, which help break up mucus and ease congestion
*Rosemary – Highly antiseptic, rosemary is another mint family member that is great at opening the airways and easing congestion.
*Thyme – Highly antiseptic and antiviral, thyme is a natural expectorant and used throughout the ages for chest congestion and coughs
*organic ingredients 
Suggested Use:
Steam: Bring 4-6 cups of water to a boil.  Add 3-4 tablespoons of Breathe Blend Herbs. Cover and let steep for 10-15 minutes. Cover head with towel & position face 8-10 inches over hot water mixture, using the towel to hold the steam in around your face. Remain in front of steam for 15-20 minutes. Take open air breaks if needed. Use 2-3 times a week. Caution: The water will be very hot. Keep the pot of hot water out of reach of children or pets. Do not position a child's face directly over the bowl. Instead make a "tent" with a blanket or sheet and sit with them around the bowl.
5-10 steams per bag 2 ounce bag
Bath: Prepare Herbs with boiling water as above. After steeping for 10-15 min, fill bathtub halfway with warm water, strain herbal mixture, & pour into bath water. You may add Epsom or Sea Salt for detoxing qualities. Soak for at least 15 minutes. 
2 Ounce Net Wt. 
Loose Leaf
% Daily Value is not established

The Mothership Breathe Blend does not contain any milk, dairy, soy, egg, fish, shellfish, tree nuts, peanuts, wheat, or gluten.
Produced at The Mothership, NYC.
These statements have not been evaluated by the Food and Drug Administration. This product is not intended to diagnose, treat, cure or prevent any disease.
Herbs and herbal medicine have been used effectively for centuries, all over the world. However, herbs are not regulated by the FDA. Consult a trusted health practitioner before using these products if you have any serious medical conditions or are taking any medications.