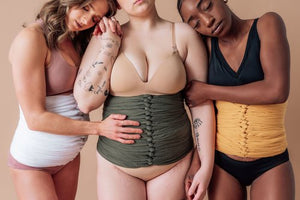 The Mothership NYC
BelliBind Single Session + Kit
Sale price Price $397.99 Regular price
MOMS IN OUR CARE GET THE BEST POSTPARTUM BENGKUNG BELLY BINDING COACHING SUPPORT
Bellibind was created to fill the void in current post birth recovery support. After childbirth women are sent home and not seen by their care provider again until SIX WEEKS!
We believe women deserve better and our bengkung belly binding wrap specialists train with top women health experts to ensure we provide the best anticipatory care, to help moms avoid common red flag issues that can lead to being readmitted into the hospital. Excessive blood loss, incisional reopening or infection, anxiety, and diastasis recti - we designed our signature postpartum belly wrap experience to help women avoid these top postpartum issues and more.
BOOK YOUR NYC BELLIBIND EXPERIENCE HERE
The Experience
Have a belly binding expert come to you to give you an in-home Bellibind experience.
Choose the number of sessions you want, and select your dates. This is the ultimate in post-partum care.
Single Session
If you're curious about The Experience, but not sure that it's right for you, book a single in-home belly binding wrap session. This is our in-person intro package so you can learn how to wrap at home.
Wrap Kits
Want to bengkung wrap, but don't need the hands-on experience? Browse our selection of Bellibinds and take one home or gift one to a loved one today.
BOOK YOUR NYC BELLIBIND EXPERIENCE HERE